The USB
Himalayan Salt Lamp:
---
LED heat and light powered through the USB port on any computer (cable supplied).
Disrupts 'harmful' EMF's naturally.
Made from pure therapeutic mineral-rich pink sea salt from the Himalayan Mountains.
Useful for people with mild respiratory issues.
Healing benefits reach the respiratory system at a microscopic level.
Lasts for 20,000 hours.
Brings the healing powers of nature into your home or office.
Counteract the Electromagnetic Fields Coming From Your Computer with Negative Ions from:
The Unique USB Mini-Himalayan Salt Lamp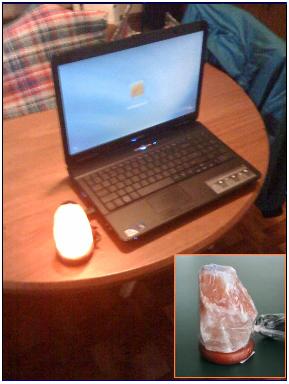 Each USB Himalayan Mini Salt Lamp is approximately:
4.5 inches in height (10 cm)
3 inches across (7 cm)
1lb in weight (500 gr)
Introductory price $39.95

Regularly priced at $49.95
Not available in stores
Negative Ions
Are Beneficial for:
---
Stress & fatique headaches
Allergies from smoke and other air pollutants
Asthma
Bronchitis
Chronic sore throat
Cold & flu symptoms
COPD
Emphysema
Sinus conditions
Snoring difficulties